AyoLane Halusky
Updated: Nov 2, 2022
Are you planning a kayak camping trip in Florida?
Gators, Mosquitoes and Bears!! Ohh My!
Camping in Florida might seem intimidating when you are miles away from a traditional campground that has WIFI, electricity, and hot showers. There is a feeling of comfort in driving up to your chosen camp spot with a ready made fire pit and picnic table. Considering the added difficulty of limited space in a kayak, most people would avoid the trip all together. But wait one second, it's not as difficult as you think, when you have the correct gear and are willing to leave a few comforts at home. Also when you know the benefits of unplugging from the grid and disconnecting from social media for 24 hours or more, the health changes are beyond comparison. Science is now starting to recognize many health benefits of being in the wild places of the world. Clarity of mind, reducing anxiety, expanded creativity and lowering stress chemicals in the body just to name a few. Let me share with you a few things Ive learned over 30 years of backpacking and kayak expeditions I've guided so you can avoid the bigger mistakes a lot of people encounter. I decided to trim it down to the basics and if you can follow these guidelines you'll be in good shape for an extended experience in the wild.
Preparation
Plan your trip in Florida for the cooler times of year. Yes, I know you're paddling on water and you might get wet, but if you are using a 14.5' sit inside touring kayak like we use at Earth Kinship Ecotours, you are protected from the elements and you can bring a lot of comforts with you. The fall and winter you may notice the reduction of bugs, snakes and gators whom are all less active during these seasons. You'll also notice the increased chance to see birds, manatees, otters as well as other mammals traveling around in search of food. One of my favorites for these seasons are the decreases in human activity, so you end up getting a true primitive experience.
The most important parts of your plan will include:
Scouting the area prior to your trip.

Creating a "Float Plan"; this document has all pertinent information about the trip. There are ready made plans you can find online. Include the following.

Where; The start and end trip locations, miles and camp locations

When are you leaving/returning

Who is on your trip, include emergency contact information for everyone

Hard copies of maps of the area. with important locations marked.

Projected weather for the next 5 days.

Create 3 copies; leave one with a person who is not coming on the trip, one with the lead guide and one left in the vehicle on the dashboard labeled "Float Plan" at the start location.

Very Important! Make sure you leave the float plan you leave with a person who is not going on your trip. this person needs to be aware of your plans and will be reaching out to you if you do not call them within 4 hours of your end date and time frame.

Identify any evacuation locations. marked on the maps.

Bring back up batteries for your phone or marine VHF radio.
Scouting the Area
Scout the area prior to the trip. This allows you to see the area and have more comfort in knowing what to expect. Planning becomes more simple when you don't have to guess about an unseen camp site. Pay attention to the area and consider things you may need to know to be more comfortable on the trip.
Here's a few things to think about:
How far are you paddling? Is there a strong current in the river? Tides?

What does the campsite look like? Is it flat, high and dry, is there any firewood, is it close to the river (flood zone?), are there any standing trees, etc..

Look for evidence of animals that might get into your food, like raccoons, opossums, hogs, snakes, gators etc…

Google map the start and end location. Don't forget there is a "right click" measuring feature that works over the waterway, to get the exact miles for your trip.
What should I bring?
There are many lists and recommendations for what you should or should not bring on an overnight kayak camping trip. Some people can get overwhelmed by researching this subject. However, if you just start with the basics of survival, then anything else you decide to bring is just extra comforts. Your basics are: shelter (tent and clothing), water to drink, tools to make a fire, and food. Anything else is just icing on a cake. Don't be the person that brings their hair dryer on a primitive camping trip or you could be the "story "everyone ends up talking about afterwards.
Here are some more details for items you should consider bringing:
Weather
Rain gear

Sun Protection> Sunglasses are a must. (Did you know you can get snow blindness from the glare of the sun off the water?)

Cold weather gear even if the forecast says it's going to be warm. Florida weather can change quickly and with a little rain and wind temperature can drop quickly and turn into an evacuation.

Flash lights (bring 2) with spare batteries. Adding a couple of glow sticks to your pack can become helpful in emergencies.

Bug repellent (It's really nice to use organic stuff, but it is a good idea not to test it out on a kayak expedition) Deet is a fail safe repellent.
Food
Plan for simple meals and snacks for the day and one bigger meal at night. Bring dry food for lighter weight and nothing that needs a cooler. (Coolers and ice should not be used for kayak camping.)

I have cooked many meals using just four cooking items: a cup, a bowl (small metal pot), a pocket knife, and a spoon. All other cookware wastes space unless you're cooking for multiple people, and then you can share the extra gear among the crowd. If you need a cutting board, bring a frisbee!

Don't forget your spices and hot sauce. Normally the only glass I have is the hot sauce bottle.

Alway pack a bear bag. This is a durable canvas bag with a long rope attached that will hold all food items without tearing. Bear bags are hung from a tree high off the ground to avoid any unwanted food thiefs in the night.
Fire
Bring matches in a weather proof container as well as a working lighter.

Fat lighter sticks are recommended for any camping trip.Fat Lighter are sap soaked pine stumps split into sticks. You can find them in hardware stores or in the woods if you know where to look.

If you are camping in a heavily used area with a large group, have each kayak carry 2-3 seasoned oak logs. This makes the burden bearable and everyone gets to enjoy a fire after camp is set up.
Water
Pack one gallon of water per person per day. Store in multiple puncture proof containers.

Bring iodine tablets and a water filter if you're on a freshwater trip.
Clothing Pack only what you need and what will bring you comfort. Follow the rule of "Function over fashion".
Consider bringing a bathing suit, a couple changes of day wear, and at least one warm layer.

After many miles backpacking and kayaking, I have found a sarong, or wrap-around skirt, is ideal to wear around the camp. Guys and girls alike find many benefits for these wrapped skirts and there are too many uses to list here.

Some like to pack camp shoes for comfort and something dry around camp.
Shelter
Tent with no-see-em screening.

A 4-season tent will have a rain fly that extends to the ground. This is important to have this option in heavy rain situations that are common in Florida. Remember you can always open a tent up to allow more wind flow.

Ground tarp that extends beyond the tent floor plan. Learn to fold the tarp under to ensure water doesn't flow under your tent or over the ground tarp.

I learned this the hard way; when I was 10 years old on a 2-week canoe trip down the Suwannee River . I woke up with my dog licking my face with most of my body under water. It rained so hard that night my ground tarp created a pool inside my tent.
Some people like to hammock camp in Florida due to the lightweight gear and the ability to sleep over wet terrain. I've had a few unpleasant nights attempting this in the past. The rain flies were never waterproof and the bugs seem to bite through the underside of the hammock. Im currently testing out a few options and yet to find one that is bug and waterproof. Ask me about this later as I research and test a new hammock tent called Safari Connect made by Tentsile, on my December 2022 trip. Or better yet test it with me.
Dry Packing: Everything needs to be packed inside a dry puncture proof storage container that will fit inside your kayak storage compartments.
Dry bags are ideal for this and they come in a variety of sizes. One issue you may find is they can be expensive and not worth the cost for a one time use.
The less expensive option is to use a 3-ply trash bag instead. If you decide to use this option, make sure you get all the air out when packing and place it inside a puncture proof duffle bag before loading it into your kayak compartments.

It is important to know how to pack your gear into small bags and load them into your kayak correctly. One large bag filled to the brim may not fit inside the narrow space of your kayak, so packing smaller bags can help you fill the spaces.

There is an important concept called swing weight to consider when loading a kayak. It is important to keep the heaviest weight closer to the center of the kayak and balanced evenly. If you have a heavy item farther away from the center the trim of your kayak becomes compromised causing the kayak's performance to be decreased ultimately creating an issue with steering your kayak in weather, wind, waves and tidal flow.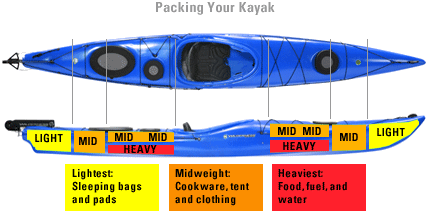 First Aid Kit, There are many on the market and it's good to have an expedition quality kit along with the training on how to use it. Make sure your guides are at a minimum certified "Wilderness First Aid" with a current CPR certification.
First aid kits should have following items;

Gloves!!!

Airway, bleeding, burns, sprains, breaks and anaphylaxis reactions.

Hypothermia (cold weather) and hyperthermia (hot weather) items should be an additional kit depending on the weather. (See the kayak gear guidelines listed below)

Emergency gear includes a Float Plan, VHS radio, whistle, emergency flag, flares, glow sticks and a space blanket.

Float plan: is a document that has all pertinent information about the trip.
As long as you consider the basics of shelter, water, fire, and food, then you will be safe.
Wilderness Systems Tsunami 145 touring style kayak
The ideal kayak for expedition camping in Florida
Kayak Gear Guidelines
Your kayak will need to be set up with the minimum following items:
PFD (life jacket) Coast Guard approved that fits you, with an attached whistle.

Sponge to bale extra water

Extra paddle

Repair kit for the kayak and paddle; (Plastic epoxy and duct tape is extremely helpful)

Light for night travel (white light only)
Guides are required to have additional items:
Handheld water pump

Paddle float

Tow rope; 2-3 times length of the kayak

Map and compass

VHF Radio and cell phone

Float Plan in waterproof container

First Aid Kit

Hypothermia dry-bag; with extra dry synthetic layers, space blanket, granola bar, and a sweet powder drink mix. Hyperthermia dry-bag; Insta-activated cold packs, space blanket, granola bar and sweet powder drink mix.
If you're interested in testing out your kayak camping preparedness, EK's next trip is The Bartram Expedition & Campout Dec. 9-11th
More Info Here > https://fareharbor.com/embeds/book/earthkinship/items/401247/availability/987803119/book/